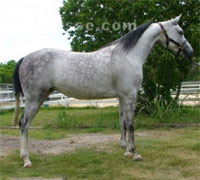 Whiskey Lullaby has been missing since an August 9 barn fire in Magnolia, Texas. Photo courtesy Stolen Horse International/Netposse.com
After a tragic barn fire on August 9 in which nearly half of the equine residents were killed, the owners and friends of Goslin-Nix Training Center are still searching for one missing horse.
A half-Arabian mare named Whiskey Lullaby escaped from the fire, but fled the stable area and was last seen running loose on a nearby road. Whiskey is 7 years old, 15-hands and dapple gray with a black tail and almost-black mane. She may have burns or other injuries as a result of the fire.
Whiskey is an accomplished show horse in the half-Arabian western pleasure division. Her owners are offering a reward for her safe return. To help find Whiskey, visit her page at netposse.com and download the flyer to post in public places. The information can also be shared via email, facebook and other social networking sites.
Click here to view Whiskey's netposse page.
Click here for Whiskey's facebook page.
Further Reading
Stolen Horse International launches crime watch program
Horse theft prevention tips