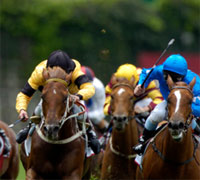 The Thoroughbred racing industry is in decline due to an aging fanbase, competition from other forms of gambling, and increased concern about horse welfare, among other issues.
Only 22% of the general public views Thoroughbred racing positively. Even among those classified as racing fans, less than half would recommend the sport to others. Attendance at tracks is decreasing, the fan base is aging, and those that still attend are betting less. These are some of the grim numbers presented at the Jockey Club's annual Round Table Conference.
The study, titled, "Driving Sustainable Growth for Thoroughbred Racing and Breeding," was commissioned by the Jockey Club to analyze the current state and the future of the Thoroughbred industry.
The findings on the state of the industry likely won't surprise anyone who has followed Thoroughbred racing in recent years. Since 1990, the number of starters is down 23%. Race days are down 14% from 2000. The fan base is decreasing by 4% each year as aging fans pass away, casual fans lose interest, and fewer new fans enter the racing world.
The one component of the Thoroughbred industry that has improved is interest in major events, such as the Kentucky Derby and Breeders' Cup. Those races have seen increases in attendance and television ratings over the past ten years. However, they account for only a tiny percentage of the sport.
The study cites several reasons for the decline in racing's popularity. Competition from other gambling options, such as casinos or online gambling, appears to pull fans away from the track. The sport also has a negative public image due to rising concerns about animal welfare and the perception that racing is not family- or community-friendly. Additionally, top races often occur nearly simultaneously at different tracks, diluting the dwindling fan base at each event.
The recommendations outlined in the study are:
Increased television coverage
A free-to-play website
Fewer, better races and better scheduling
Creation of a social game
Innovative wagering platforms
Track-integrated Advance-Deposit Wagering (ADW)
Racing integrity reforms
Encouragement of ownership through greater transparency
Dissemination of best practices from tracks around the country.
At its August 14 Round Table Conference, the Jockey Club President and CEO James L. Gagliano announced that the organization would commit to funding these initiatives over the next five years.
Also at last weekend's conference, the Jockey Club released its prediction that the 2012 Thoroughbred foal crop would be the smallest since 1971, based on the number of mares bred this year.
Click here to view selected exhibits from the industry study.