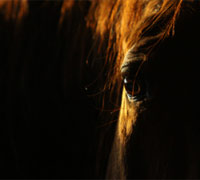 Advocates for wild horses and burros, opponents of horse slaughter and others concerned with equine welfare will meet in Alexandria, Va. next month for the first annual International Conference on Equine Welfare.
The conference is co-sponsored by the
Equine Welfare Alliance
(EWA),
Animal Law Coalition
(ALC) and EWA member and Professor of Neurology Dr. Ann Marini.
The central issues to be discussed at the conference are America's wild horses and burros and the equine welfare, humane health and environmental implications of horse slaughter. The sponsoring organizations are both opposed to horse slaughter and critical of the Bureau of Land Management's (BLM) wild horse and burro round-ups.
Current conference presenters include:
Alex Brown, AlexBrownRacing.com
Keith Dane and Stephanie Boyles, Humane Society of the United States
Shelley Grainger, Canadian Horse Defence Coalition
Jacque Schultz and Nancy Perry, American Society for the Prevention of Cruelty to Animals
Paula Bacon, former mayor of Kaufman, Texas, where the Dallas Crown equine slaughter plant was located
Michael Blowen, Old Friends Thoroughbred Retirement Facility
Sen. Mary Landrieu, (D-LA)
Henry Skjerven, former director at Natural Valley Meats, a Canadian horse slaughter facility
Ginger Kathrens, The Cloud Foundation
Madeleine Pickens, Saving America's Mustangs
Registration is currently open. The cost is $75/day or $150 for the full, three-day conference. Students an attend for $40/day or $75 for all three days.
For more information, visit the International Equine Conference webpage.
Further Reading
How Humane is Horse Slaughter?