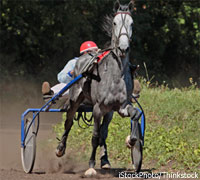 The Standardbred Retirement Foundation helps find forever homes for ex-harness racehorses.
When Standardbred racehorses can no longer continue their harness racing careers, many wind up circulating through rescues, auction houses and sale barns. In 1989, the Standardbred Retirement Foundation (SRF) was created to rehabilitate or find retirement homes for off-the-track Standardbreds.
The SRF not only rehomes ex-racehorses, but with help from a team of volunteers, they follow-up on every adoption to make sure the horses are being cared for throughout their lives. They also take back any horse whose adopter is unable or unwilling to keep it. Since its inception, SRF has placed more than 2,000 Standardbreds in their forever homes.
In July, SRF announced the Win*Win Program. This program allows owners, trainers and drivers of harness racing horses to choose a percentage of their winnings on the track to be automatically given to the SRF as a tax-deductible donation. Many stables have already pledged their support for the program.
The Win*Win Program is currently in place at many harness tracks in New York, New Jersey and Pennsylvania with expansion beginning as far away as California and Canada.
To learn more about Standardbred adoption, visit /redirect.php?location=www.adoptahorse.org
Further Reading
A Change of Pace
Support our Standardbreds