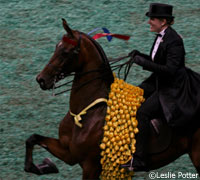 American Saddlebreds compete for world champion titles at the Kentucky State Fair. Photo: Leslie Potter
The American Saddlebred Horse Association (ASHA) will once again be offering multiple ways to enhance the Kentucky State Fair World's Championship Horse Show (WCHS) experience in 2011, for attendees and non-attendees alike.
Merial Webcast
For those unable to attend every day of the show, ASHA, in conjunction with the United States Equestrian Federation (USEF), will be providing the Merial Webcast of the 2011 Kentucky State Fair WCHS, free of charge. Once again, the ASHALive coverage of this year's event will also include class schedules, results and the action from each class inside the ring, all as part of the WCHS online experience.
Class schedules and results are also available at ASHALive.net. ASHA's daily publication, American Saddlebred Daily, which features show results, photos, and various editorial containing news and Saddlebred related activities during Kentucky State Fair, will also be available online. Access the class schedule, results, ASHA news, and each issue of American Saddlebred Daily from ASHALive.
Constant updates, news, information, photos and show results will also be available from ASHA via Facebook, Twitter, and ASHA's new Saddlebred Blog.
Saddle Up a Scholarship
Tickets for ASHA's Saddle Up a Scholarship Raffle, for the benefit of ASHA Youth Scholarships, can be purchased now by contacting Brenda Newell at (859) 475-1461. Any remaining tickets will be available for sale on site at the Kentucky State Fair, during the week of WCHS.
The prize for the raffle is a Shively MMXTreem saddle, signed by legendary saddle seat equitation instructor and MMXTreem developer, Lillian Shively. The saddle will also be accompanied by a numbered certificate. The drawing will be held on Wednesday, August 31, 2011, the week following the World's Championship Horse Show, and will take place at the ASHA Office. For questions or additional information, contact Brenda Newell at (859) 475-1461, or by email at b.newell@asha.net.
Meet the Stars of the Show Backstage!
Sponsored by the United Professional Horsemen's Association (UPHA), visitors to the World's Championship Horse Show and the Kentucky State Fair will have the opportunity to take tours of the stables, pet horses at a meet and greet, and listen and interact with daily speakers. Information and videos about American Saddlebreds and the Equestrian Life Learn to Ride and Drive in Style free lesson promotion will also be available for visitors. This event will begin at 10 AM on Saturday, August 20 and will continue until the conclusion of WCHS on the evening of Saturday, August 27. For more information on this event, contact Kristin Stivers at kstivers@uphaonline.com.