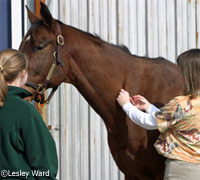 All adult horses should be vaccinated annually for Eastern Equine Encephalitis. Photo: Lesley Ward
A North Carolina horse was euthanized this week after being diagnosed with the state's first reported case of Eastern Equine Encephalitis (EEE) for this year. There were six cases reported last year.
Earlier this month, a young child, two horses and a dog in New York died from the disease, leading officials to make the call to conduct aerial spraying for mosquitoes, which carry the EEE.
EEE is rare in humans, but when it does infect a person it has a 33% mortality rate and often leads to brain damage in those that survive, according to the Centers for Disease Control. Although it can infect different species, it is not contagious from horse to human. The disease is transmitted by mosquitoes that have bitten infected birds, and the best defense for humans is to use insect repellent, wear long sleeves and long pants, or simply remain indoors during times of high mosquito activities.
Horses are more frequently affected by EEE and the vast majority of cases are fatal. Fortunately, there is a vaccine for horses, and the American Association of Equine Practitioners (AAEP) includes it in the list of core vaccinations. Adult horses should receive an EEE vaccine annually.
Symptoms of EEE in horses include depression, loss of appetite and a general loss of coordination. There is no cure for the disease once a horse has been infected.
Late summer is peak season for EEE infection. Consult your veterinarian if you are unsure whether or not your horse has been vaccinated.
Further Reading
Encephalitis or encephalomyelitis?
Vaccinating for mosquito-borne diseases
Centers for Disease Control: Eastern Equine Encephalitis