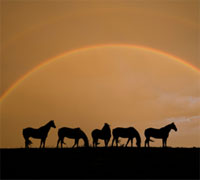 The Essence of Equus is a new equine fine art photography class offered online by www.learntotakephotos.com. It will be taught by four professional equine photographers: Christina Handley, Bev Pettit, Laura Cotterman and Rachael Waller. The class includes two lessons on capturing more artistic images and two lessons on post processing and printing your photos.
The class begins on September 7, 2011. Everything is online and accessible 24/7 so you can work at your own pace. The class will run for two full months and include four assignments. The Essence of Equus will take you from planning your shoot, to capturing the images, to perfecting them in post production and finally to a complete fine art piece.
The Essence of Equus is more than a photography class. You will have four professional equine photographers who are at the top of the fine art world at your side as you make your way on your own personal journey. The instructors are all friends, know each other and work well together. This experience will be uplifting, energizing and fun.
See the horse's true soul through the intuitive eyes and heart of Rachael Waller, find the magic moment with the patience, timing and vision of Christina Handley, become enlightened of all the fine nuances of this magnificent creature with the wisdom and insight of Laura Cotterman and infuse your post processing with the creative genius and artistic talent of Bev Pettit.
The Essence of Equus will focus on the artistic and not the technical aspects of photography. Students can use any camera for the class assignments.
Students upload their photos and receive helpful feedback and advice. The learning environment is supportive, fun and creative. Everyone is encouraged to ask questions, discuss ideas and participate. This class includes live webinar discussion sessions.
Go to www.learntotakephotos.com/essence_of_equus.php for the course outline.
About Learn To Take Photos
Learn To Take Photos is an online photography school founded by well known horse photographers Christina Handley and Laura Cotterman. Students learn photography, get to know new people and share ideas in a fun, encouraging and supportive environment. Learn To Take Photos' online photography courses are designed for adult learners and are self-directed, creative and motivating. Students have one-to-one access to expert photographers.
Further Reading
Photography Tips from Christina Handley
Photography Tips from Bob Langrish
Photography Tips from John Hockensmith