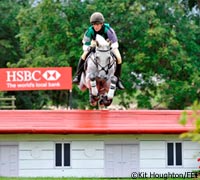 Caroline Powell (NZL) and Lenamore will be defending their title at this week's Land Rover Burghley Horse Trials.
An all-star cast heads to this week's Land Rover Burghley Horse Trials in Great Britain, the second to last leg of the HSBC FEI Classics™ 2011.
It is a particularly special year for Burghley, as it is 50 years ago that the historic Lincolnshire estate hosted its first competition by invitation of the 1928 hurdling Olympic gold medalist, the Marquess of Exeter.
Since then, Burghley has hosted eight championships, including the first ever World Championships in 1966, and riders regularly vote it their favorite venue in L'Annee Hippique, the annual review of the equestrian year.
Not only does Burghley boast the beautiful backdrop of the magnificent Elizabethan house and deer park, but it is an event that has consistently been at the forefront of innovation, with its own irrigation system for the dedicated Cross Country track and all-weather warm-up arenas.
"Burghley has such charm," explains five-time winner and this year's Badminton champion Mark Todd (NZL). "It is a magical place and I always feel excited when I come in through the gates."
Besides Todd, eight other former Burghley winners have entered for this year's golden jubilee, including Mary King (GBR), this year's Rolex Kentucky Three-Day Event winner.
King, none the worse for her fall at the HSBC FEI European Eventing Championships in Luhmühlen last weekend, had always declared the HSBC FEI Classics to be her major goal this year, and she is taking no chances. She brings her Rolex Kentucky (USA) winner, the home-bred mare Kings Temptress, plus the consistent Apache Sauce, eighth at the HSBC FEI Classics™ in Luhmühlen (GER) in June.
Competitors at this year's event who have already tasted Burghley glory include the defending champions Caroline Powell (NZL) on the sprightly 18-year-old Lenamore, plus her compatriots Andrew Nicholson (NZL), with Avebury and world bronze medalist Nereo, and Blyth Tait (NZL) on Santos.
Particular interest will surround Tait, who scored a one-two in 1998 with Chesterfield and Aspyring as well as a win in 2001 with his Olympic and world champion Ready Teddy, as he is making a welcome return to Burghley after a seven-year absence.
Southern hemisphere riders have taken the honors at Burghley 11 times in the last 21 years, and Lucinda Fredericks (AUS), the 2006 winner on Headley Britannia, returns with the good mare Prada.
Former British winners entered are Oliver Townend (2009), who is entered with Imperial Master and Neo du Breuil; Pippa Funnell (2003) with Mirage d'Elle and Pure Addiction, and five-times winner William Fox-Pitt, who has entered Neuf des Couers and Parklane Hawk.
American riders at this year's event include Michael Pollard, Boyd Martin, Sinead Halpin and Colleen Rutledge. Will Coleman was also set to compete, but withdrew after his mount, Twizzel, came up lame during the a warm-up session.
Another distinguished entrant is the former world and European champion Zara Phillips (GBR), second in 2003 on Toytown. This time she rides High Kingdom. Her mother, the Princess Royal, a key figure in Burghley's history having won the European Championships there in 1971 on Doublet, will be presenting the prizes on Sunday.
Zara Phillips' father, Captain Mark Phillips, says he has designed a "retro" Cross Country course in honor of Burghley's landmark birthday. His track certainly marks a return to the old days of big, bold hedges and ditches – Centaur's Leap (fence 21) at the far end of the course is a record 1.45m wide – so it will be fascinating to see whether there is an old or a new name on the roll of honor on Sunday night.
Follow all the action on www.burghley-horse.co.uk