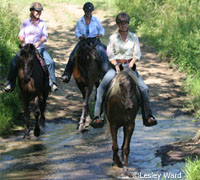 The American Competitive Trail Horse Association is counting the days until the new nationwide reality series America's Favorite Trail Horse premieres on HRTV. The series will showcase the top 100 trail horses from all over the country as they compete in Austin, TX on the Franklin Family Ranch for $100,000 in cash.
The show will air each week, for 13 weeks starting September 13th 2011 on HRTV (Dish channel 404 and local cable) on Tuesdays at 8pm (EST) and will be repeated at 11pm (EST) and Sunday at 8pm (EST). The show is also available on
www.actha.tv
and
www.HRTVlive.com
. Dish Network has also joined in on the celebration and is gifting viewers who subscribe or switch to Dish Network with a $50 ACTHA Gift Certificate.
In each episode viewers will have the ability to vote for their favorite trail horse at www.actha.us and $5000 will be awarded to each episode winner. Voting will open for 48hours after each episode has been aired. The finale will feature all of the episode winners and will award $50,000 to the top 3 horses of the entire series.
The purpose of America's Favorite Trail Horse is to bring attention to the great American trail horse that has served this country so magnificently. ACTHA Founder, Karen VanGetson states "It is our sincere hope that this effort will cause many riders to get back in the saddle again and rescue horses that are in desperate need of a home, a cause which is dear to the heart of the American Competitive Trail Horse Association."
For more information on America's Favorite Trail Horse visit www.actha.us.