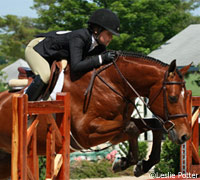 The Alltech National Horse Show, 128th edition, announced today that tickets, ranging from only $10 to $30, are now available for purchase, online at www.ticketmaster.com.
Children 12 and under are admitted free of charge when accompanied by a paying adult (limit 2 child tickets for every paid adult).
Additionally, fifty percent of the net proceeds from the General Admission gate receipts will be donated to the various charities that are featured each day at the Alltech National Horse Show. Those charities will be announced in the days ahead.
Doors for each session open 30 minutes prior to the start of the event. All seats are General Admission and parking is free.
The Alltech National Horse Show, 128th Edition, will be held from November 2 – 6, 2011, at the beautiful, new Alltech Indoor Arena at the Kentucky Horse Park in Lexington.
This year's show, designated CSI4*-W, will feature a complete schedule of 'AA'-rated hunter divisions, including the Pony Lane Farm High Performance Hunter section. Also on the agenda, a big money Open Jumper division highlighted by the Sasco Creek Farm $50,000 Welcome Speed Class, the $75,000 Double H Farms Thursday's Jump-Off class, the $60,000 Spy Coast Farm Faults Converted Speed class on Friday and of course, the $250,000 Alltech National Horse Show Grand Prix, an FEI World Cup qualifying event. $100,000 will be up for grabs for the Junior and Amateur Jumper divisions, including the $50,000 SJHOF Junior/Amateur Championships, sponsored by Sleepy P Ranch, Chansonette and Deeridge Farm. The final Sunday is highlighted by the signature event of the National Horse Show, the ASPCA Alfred B. Maclay Finals, presented by C.M. Hadfield's Saddlery.
In addition to the Alltech National Horse Show itself, those attending will be able to enjoy a fabulous sixty booth equestrian trade fair and wonderful educational opportunities for the entire family.
"We hope people will take advantage quickly of the availability of online ticket purchases at Ticketmaster," said Mason Phelps, Jr., President of the National Horse Show Association. "There is a real excitement about the Alltech National Horse Show coming to Lexington and I have no doubt that every session, especially the prime time events, will be a complete sell out. So, I would say that if you're planning on attending any of the night sessions or Sunday's ASPCA Maclay National Finals, please buy your tickets early."