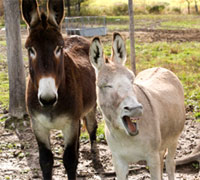 Hawaiian donkeys, formerly living as feral animals on Hawaii's Big Island, are finding new homes after being airlifted to California last weekend with help from the Humane Society of the United States (HSUS). The effort is part of a plan to reduce the overpopulation of the animals on the island.
According to HSUS, the donkeys on the island today are descendents of animals once used in Hawaii's coffee industry. When agricultural practices became mechanized, the donkeys were turned loose where they had to compete with cattle ranches and residential development for space and food.
Hawaii cattle rancher Stan Boteilho saw the starving donkeys when they wandered on to land he leased for his cattle. He connected with local veterinarian Dr. Brady Bergin and HSUS, and the rehoming plan was born. The donkeys were trapped and gelded before being sent to rescues for rehabilitation and adoption into new homes.
The donkeys brought to California this weekend will be staying at Peaceful Valley Donkey Rescue where they will be evaluated for future adoption.