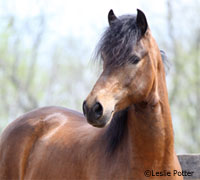 Next week, the country's best Paso Fino horses will be competing at the Show Place Arena and Memphis Agricenter International in Tennessee. The Paso Fino Grand National will showcase this unique Latin American breed from Sept. 25 through Oct. 1.
The Grand National is more than just a breed show. Events beyond the traditional show ring disciplines include a cowboy mounted shooting competition, a horse soccer tournament, a trail obstacle challenge, a largo horse race, trail riding, training clinics and more.
In the competition arena, horses and riders will compete in the traditional pleasure, performance, fino and bella forma (halter) classes. Additionally, Pasos compete in driving, versatility, costume, trail and western pleasure.
To learn more about the Paso Fino and the Grand National, visit www.pfha.org.
To view a video of the Paso Fino's unique gaits, click here.