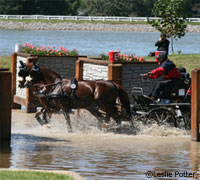 Jennifer Matheson, shown here competing in 2009 at the Kentucky Horse Park, placed 10th in the pairs division at the 2011 FEI World Pony Driving Championship. Photo: Leslie Potter
The U.S. Pony Drivers defended their third-place marathon finish – driving a confident cones phase to secure a Team Bronze medal at the 2011 FEI Pony World Driving Championships in Lipica, Slovenia. Their three-phase total of 402.3 guaranteed Bronze behind driving powerhouse nations, Germany, who won on 359.4, and The Netherlands on 375.4. Additionally, Suzy Stafford – driving as an Individual for Team USA – drove an impeccable cones phase to move from fourth to third and secured her second consecutive Individual Bronze medal.
Single Pony Championship
Finishing just two places behind Stafford (Wilmington, DE) and Josephine, Randy Cadwell (Southern Pines, NC) drove Kabam to sixth in the division, adding just 1.88 penalties in the final phase. Shelly Temple (Windsor, SC) finished just outside the top 10 with LR Ami B-Line, ending up 11th on 130.97.
Pair Pony Championship
Jennifer Matheson (Aiken, SC) drove determinedly all weekend, and finished 10th to lead the U.S. effort in the Pairs division. Wendy O'Brien (Aiken, SC) put in a valiant effort in her first Team appearance, finishing 22nd overall.
"I thought it was great," said Matheson. "We all worked really really hard. Some of us had personal bests, I was in that category. Wendy and Lisa had outstanding weekends, everyone worked hard. The team worked well together which was really nice and everyone helped everyone out. We worked really hard, at the beginning of the year we thought we had a chance for bronze, we knew that the Germans and the Dutch were really, really strong but we worked really really hard and we succeeded."
"It was great to stand on the podium, it was so funny because it was all women that won the bronze medal and the German team is all men so we were standing up there all laughing."
Pony Team Championship
Lisa Stroud (West Grove, PA) had a dynamite weekend with her Pony Team driving to sixth place with very confident efforts in each phase. She added three penalties in the Cones phase to lead the U.S. in the highly competitive division. Teammate Laurie Astegiano (Roussac, France) drove her way to 10th, with her Pony Team to round out an impressive effort for Pony Team USA.