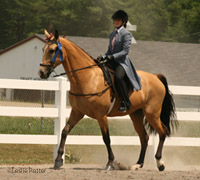 This week, owners, riders and enthusiasts of the Tennessee Walking Horse are centered in Murfreesboro, Tenn. for the National Walking Horse Association (NWHA) National Championship. The show runs through Oct. 1 at the Miller Coliseum.
The NWHA was created for Walking Horse owners who had become disillusioned with the cruel training methods sometimes used to get the high, reaching gait of Tennessee Walking Horses in the show arena. At NWHA shows, the horses do not wear the stacked pads between the hoof and the shoe or chains around the pasterns that are standard equipment in some Walking Horse classes.
At this week's show, Walking Horses will compete in a wide array of classes showcasing the naturally-gaited breed's versatility. Horses and riders compete in English (saddle seat) pleasure, western pleasure, trail, speed events, driving, equitation and dressage.
To learn more about the NWHA National Show, visit NWHA.com