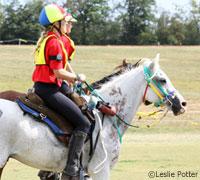 On Saturday, Oct. 8, approximately 200 riders will
embark on a 100-mile ride for the Tevis Cup. Riders will attempt to journey
from Lake Tahoe to Auburn, California in a single day. Here's an overview of
this landmark event.
Although most of us know it as The Tevis Cup, the
ride's official name is The Western States Trail Ride.
The ride has been held annually since 1955, except
when it was canceled in 2008 due to wildfires in California.
The Tevis Cup is usually held in July or August,
but was postponed this year due to unusually heavy snow along the mountainous
route. This is the first time the ride has been held in the fall, and will
bring cooler temperatures and have fewer hours of daylight than usual.
To successfully complete the ride, riders must
finish the 100 miles in less than 24 hours. Riders begin the race at 5:15 am
and the first riders typically cross the finish line around 10 pm. This
finishing time includes mandatory rest stops and vet checks throughout the
course in addition to the actual time spent on the course.
All riders who successfully complete the course
and whose horses are judged "fit to continue" at the end receive the Completion Award belt
buckle.
This year's Tevis Cup start list includes riders
from the U.S., Japan, Australia, Canada, South Africa, the Netherlands, United
Arab Emirates and United Kingdom.
The majority of American riders in this year's
Tevis Cup are from California, but there are entrants from as far as New York
and Hawaii.
In addition to the Tevis Cup, which is awarded to
the fastest finisher whose horse is deemed "fit to continue" after the final
vet check, the Haggin Cup is awarded to the finisher whose horse is judged in
best condition at the end.
84% of Tevis Cup winners have been purebred
Arabians. Another 11% were Arabian crosses. Two Thoroughbred crosses and a
Mustang are the only non-Arabians to win the Tevis Cup. One Thoroughbred cross,
one Appaloosa and one mule have been awarded the Haggin Cup while the rest have
been Arabs and part-Arabs.
No horse? No problem. Ultra marathoners compete on
much of the same route as the Tevis Cup in the Western States Endurance Run,
held annually in June since 1977. The run was inspired by Tevis Cup competitor H. Gordon Ainsleigh, who decided to complete the race on foot after his horse did not pass the vet check 29 miles into the 1973 ride.
For more interesting facts about the Tevis Cup, visit
www.teviscup.org
.