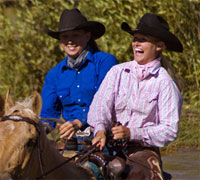 October is breast cancer awareness month, and horse feed
company Purina has launched a campaign to support research and raise awareness
of the disease, especially in rural communities.
Purina Pink 50 is a series of events, including trail rides,
rodeos and open houses, that will help raise funds to continue research into
finding a cure for breast cancer. Additionally, select Purina feeds, including
Equine Senior, Strategy and Omolene, will be repackaged in pink for breast
cancer awareness month, and a portion of the sales from the pink bags will be
donated to the Breast Cancer Research Foundation.
Nearly 80% of horse owners in the United States are women,
and statistics show that one woman out of every eight will be diagnosed with
breast cancer at some point in her life. Although the disease can strike men as
well, women are more than 100 times as likely to be affected, according to the
American Cancer Society. Over the past few years, walkathons, 5k races and
other events in cities across America have made great strides in spreading
information about the importance of early detection and the need for research into
finding a breast cancer cure. Purina Pink 50 is one of the few campaigns aimed
specifically toward women in rural areas.
To learn more and find a local Pink 50 event, visit www.purinamills.com/Pink50