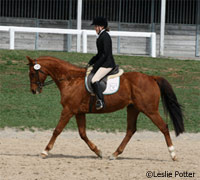 Thoroughbreds that have finished their racing
careers often go on to excel in sport and show disciplines. While many
organizations exist to help retrain and rehome ex-race horses, the Thoroughbred
Horse Show Association (THSA) was created to create opportunities to showcase
the breed's talents in the show ring.
The THSA was founded in the summer of 2011 by a
group of Thoroughbred enthusiasts in Kentucky with the goal of facilitating
horse shows just for off-the-track Thoroughbreds. The first shows will be held
during the 2012 season on April 14-15 and Oct. 6-7 at the Kentucky Horse Park. Horses
will compete in hunters, jumpers, dressage and competitive trail riding.
THSA shows are open to Jockey Club registered
Thoroughbreds and are geared toward horses just starting out in second careers
as show horses. Horses at THSA shows compete under their Jockey Club names so
that fans can follow their favorite race horses in their second careers.
To find out more about the THSA, visit
www.tbhorseshow.org