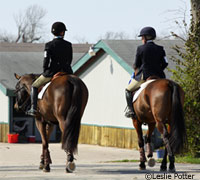 Riders who compete with Thoroughbreds will have new
high-point awards to go after thanks to a new initiative from The Jockey Club. Beginning
in 2012, the Thoroughbred Incentive Program (TIP) will provide awards and prize
money for horses competing in eventing, dressage, hunter/jumper, and English
and western pleasure.
Although the program is unrelated to the Thoroughbred Horse
Show Association that HorseChannel.com
reported on last week
, the two groups
are both working toward the same cause: The promotion of Thoroughbreds in new
careers after their racing days are over.
Any horse registered with the Jockey Club is eligible to
participate. The program will provide prizes and awards at shows as well as
high-point awards in various divisions. The program includes two other awards:
TIP Thoroughbred of the Year and TIP Young Rider of the Year.
The TIP Thoroughbred of the Year title will be awarded to
the Jockey Club registered Thoroughbred that has made exceptional achievements
in a non-competitive career. The Jockey Club will award a $5,000 grant to a
non-profit affiliated with the winning horse, or another equine charity.
The TIP Young Rider of the Year Award will be given to a
rider 18 or younger who owns or leases a Thoroughbred. Interested riders will
submit an essay, and the winner will receive a $5,000 scholarship to be used
for college or for participation in certain equine events.
The Jockey Club has pledged $100,000 to launch TIP as a
pilot program in 2012. Horse show organizers who would like to include TIP
classes in their 2012 shows can complete the application at tjctip.com. The
site also has information for Thoroughbred owners and riders interested in
participating in the program.