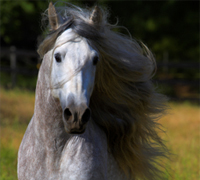 In 2008, The American Museum of Natural History (AMNH) in
New York opened a new exhibition called The Horse, tracing the origins of the horse/human
relationship from the time that horses were prey for human hunters to the
modern partnership in equestrian sport.
The Horse ran at the AMNH
through January of 2009 and has been traveling to different museums
around the world since then. On Saturday, October 22, The Horse exhibition will
open at the International Museum of the Horse (IMH), a Smithsonian affiliate
located at the Kentucky Horse Park. The exhibition will remain on display
through April 6, 2012.
The Horse glimpses into the horse's entire known
history, from the early creatures that preceded it in evolution to the modern
animal that exists today. Visitors to the museum will be able to view artifacts
from many of history's great horse cultures, from the 13th-century
Mongols to medieval Europe to American Indians. Parts of the exhibition are
dedicated to showing how horses and humans shaped each other throughout
history, including the horse's use in warfare, work, transportation and sport.
Prior to its stay at the International Museum of the Horse,
the exhibit opened in the Abu Dhabi Authority for Culture and Heritage, the
Canadian Museum of Civilization, The Carnegie Museum of Natural History in
Pittsburgh, and Chicago's Field Museum. The next scheduled opening is at the
San Diego Natural History Museum from April through September 2012.
Admission to the International Museum for the Horse is
included in Kentucky Horse Park admission. A discounted museums-only ticket is
also available. For admission information and park hours, visit
www.kyhorsepark.com.
To learn more about The Horse, visit www.amnh.org