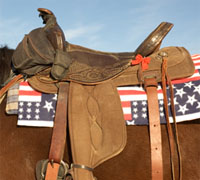 Earlier this month, officials announced that Smith Lake Riding Stables, located near Fort Bragg in Fayetteville, N.C., would be permanently closing its doors.
The stable was home to government-owned horses that were used for special operations training. Soldiers learned to work with and ride horses in preparation for missions that might require them to go locations where motorized vehicles can't go. Additionally, the stable offered lessons and camps to locals, including military families. Horse owners who boarded their animals at the stables have been notified that they will need to find new homes for their horses.
The horses owned by the government will be sold at auction at the stables on November 17. Tack and stable equipment will also be auctioned off. Interested horse buyers must fill out an application, available here. Currently there is no official site with information of the horses to be auctioned, but some friends of the stables have made the information available here.
In a statement on Facebook, Fort Bragg explained its reasons for closing the stables.
"The stables suffered severe damage during the tornadoes this past spring and repairs to the barns, administrative building, and pasture and trail areas are still not complete. The government owned horse trails have essentially been out of business since the storm, and there is no possibility of getting back into that business quickly."
In the statement, Fort Bragg also cites inadequate pasture space at the facility, which may have led to several incidents of sand colic. Additionally, the expense of running the stables has been greater than the income it provided, according to the statement.
In response, the stable's supporters have started their own Facebook page and an online petition to keep the stables open.