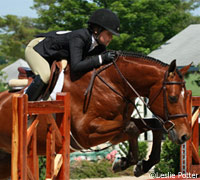 The 53rd annual Washington International
Horse Show (WIHS) is taking place this week in the nation's capital, but fans
of equestrian sport can watch all the action from anywhere in the world thanks
to a live webcast.
The WIHS is one of the most prestigious shows for
American hunter and jumper riders and attracts some of the best equestrians in
the country. There will be an estimated 500 horses competing this week, and
riders will be competing for more than $400,000 in prize money.
Tonight, the show's distinctive Gambler's Choice
Costume Class will take place, where riders can choose their own course over a set
amount of time to earn points in an effort to win their share of the $20,000 in
prize money. On Friday, the $25,000 Puissance competition puts daredevil jumper
riders and horses to the test with an increasing high jump. Saturday evening
brings the show's climactic $100,000 President's Cup Grand Prix.
For ticket information, visit www.wihs.org/tickets. For those not in
the D.C. area, visit www.wihs.org/stream
to watch the show live from the comfort of home. For a full schedule of events
at the WIHS, visit www.wihs.org/schedule.