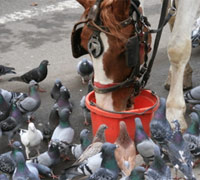 Are horse-drawn carriages an essential part of New
York City's tourist trade, or a cruel, outdated tradition that should be
banned? This controversial question has long been a divisive issue among New
Yorkers, and that issue came to the forefront again when a gray carriage horse
named Charlie mysteriously collapsed and died on the morning of October 22.
Opponents of New York's carriage trade include
animal welfare groups and citizens of the city who are concerned about the
safety hazards of having horses share crowded, urban streets with pedestrians,
cyclists and motorized vehicles. A handful of groups exist to protest the use
of horses in the city, including the
Coalition to Ban Horse Drawn Carriages
and
New Yorkers for Clean, Livable and Safe Streets
(NY-CLASS).
According to the Coalition, the law allows carriage
companies to put the horses to work seven days a week for nine hours a day.
While the law was recently amended to give the horses a mandatory five weeks of
vacation each year, the Coalition says that this is unenforceable. The carriage
horses are housed in urban buildings in Manhattan with no turnout.
The American Society for the Prevention of Cruelty
to Animals (ASPCA), which publicly opposes the carriage industry in New York, is
nevertheless tasked with overseeing the horses' welfare. The ASPCA will
facilitate a necropsy to investigate the cause of Charlie's death.
"The life of a carriage horse on New York City
streets is extremely difficult and life threatening," says Stacy Wolf, Vice President
and Chief Legal Counsel of ASPCA Humane Law enforcement. "The ASPCA has long
believed that carriage horses were never meant to live and work in today's
urban setting."
Carriage drivers and others involved in the industry maintain that the horses are held to strict standards of care and regulations on their working conditions. And while some New Yorkers would support a ban of
carriage horses in Manhattan, there are many who view it as an important tourist draw
and a source of employment during difficult economic times. Among the
supporters is New York Mayor Michael Bloomberg.
"Unfortunately, there was a death of a horse,"
Bloomberg was quoted as saying by the New York Daily News. "Horses have life
expectancies of 14, 15 years, 20 years, depending on the breed of the horse."
(Although the mayor's statement is incorrect, NY-CLASS states that the average
lifespan of a carriage horse is half that of other domestic horses.)
"The tourists love this," continued Bloomberg. "We
worry about the horses being treated well and humanely, but there's no evidence
that the horse was abused."
Bloomberg's daughter, Georgina, is a professional
show jumper and equine welfare ambassador for the ASPCA. NY-CLASS states that she
is also a supporter of their organization, but she has not made a public
statement on this incident.