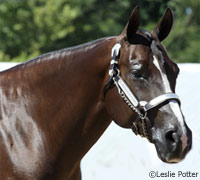 Quarter Horses will take the stage from now through
Nov. 19 at the AQHA World Championship Show at State Fair Park in Oklahoma
City. Here are some facts about this year's show courtesy of the AQHA.
Total number of entries: 3,572 (2,146 horses
entered)
Breakdown of entries: 43% amateur and 57% open
(youth riders have a separate world show held in August.) Approximately 2/3 of
the entries are entered in western classes, 12% in English disciplines and 20% in
halter classes.
The largest class at this year's show is open
ranch sorting with 92 teams entered.
Among the countries represented at this year's
show are Austria, Brazil, Canada, Germany, Italy, Mexico and Venezuela. Entries
have also come in from 47 states.
Tickets to the show are available for $8-12 each
day, or purchase a package of six for $30. Members of the military and their
spouses get in free on Veterans' Day, Nov. 11.
For more information including schedule, results
and to view the free, online webcast of the show, visit www.aqha.com/worldshow