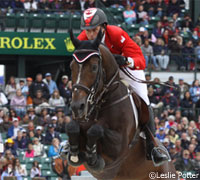 Eric Lamaze and Hickstead, shown here at the 2010 Alltech FEI World Equestrian Games where the pair won individual bronze. Photo: Leslie Potter
Update (11/10/11): Hickstead's initial necropsy report has been released. Click here to read more.
Original Article:
Hickstead, the firey bay stallion ridden by Canadian show jumper Eric Lamaze, has been a nearly unstoppable force in international competition
for the past several years, but Hickstead's career came to an abrupt and
shocking end on Sunday when he collapsed at the Rolex FEI World Cup Jumping
competition in Italy.
The 15-year-old Dutch Warmblood had just completed
a course with no apparent difficulties, then collapsed and died almost
instantly. At this time, no official cause of death has been released, although
it is speculated to have been a heart attack. A necropsy will be performed to
confirm the cause of death.
The competitors asked that the competition be stopped in support
of Lamaze and to pay their respects to the great horse.
"Shortly after finishing his round of jumping, Hickstead collapsed
in the arena and died," said John Roche, FEI Jumping Director. "As yet the
cause of death is unknown, but our deepest sympathies go out to the owners, to
Eric and to all the connections of one of the greatest Jumping horses of all time.
Hickstead's presence on the circuit will be very sadly missed."
Among Hickstead's many honors with Lamaze were an
individual gold medal at the 2008 Olympics and the title of "Best Horse" at the
2010 Alltech FEI World Equestrian Games, where he was the only horse in the final day of
show jumping to turn in four fault-free rounds.