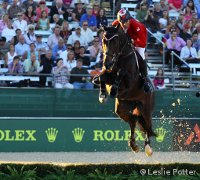 Eric Lamaze and Hickstead clear the liverpool at the 2010 Alltech FEI World Equestrian Games Photo: Leslie Potter
Hickstead, the mount of 2008 individual Olympic show jumping
gold medalist Eric Lamaze, collapsed and died unexpectedly due to an aortic
rupture that led to heart failure according to preliminary necropsy results.
The cause of the aortic rupture is still unknown and would likely be difficult to pinpoint even with further examination. Hickstead's
body has been cremated.
Hickstead was the pride of the Canadian equestrian
community, helping the show jumping team earn team silver in addition to Lamaze's
individual gold. The pair earned individual bronze at the 2010 Alltech FEI
World Equestrian Games.
"He made sure I was OK and just kind of fell beside me,"
Lamaze said of the horse's final moments. "That's what I believe. It's hard for
me to remember second for second what happened. He collapsed and I fell far
away from him. I think he collapsed in a way that he made sure he did not
injure me in the process.
"It's not like breaking a hockey stick or a tennis racquet.
We become very close to these animals. We're in the limelight with these horses
and Hickstead for sure changed my career. For me, he meant everything."
Lamaze, 43, has considered retiring from competition, but
says he is "not ready to go yet." He is competing this week at the Royal Horse
Show in Toronto where his fellow riders wore black armbands in remembrance of
Hickstead.