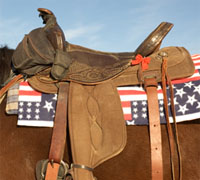 Horses have been an integral part of warfare around the
world for most of history. Today, few horses are seen on the battlefield, but
they still have a role to play in the modern military structure.
Soldiers who return from combat with injuries or mental
trauma can benefit from equine-assisted therapy. Several therapeutic riding
centers offer programs designed specifically for veterans through the
Professional Association of Therapeutic Horsemanship International's
(PATH
Intl., formerly NARHA) Horses for Heroes program.
The mission of Horses for Heroes is to assist veterans
through the services of PATH Intl. members. PATH Intl. connects with veterans
directly and through the Department of Veterans Affairs. All veterans, whether
they have recently returned from active duty or have been out of the service
for years, can benefit from the Horses for Heroes program.
Equine-assisted activities and therapies (EAAT) have been
shown to help improve riders with a wide variety of physical ailments and
injuries as well as emotional and mental disabilities. Here are some of the ways
that EAAT can help veterans, according to PATH, Intl.
Emotional/Mental Trauma: "EEAT can contribute to increased
self awareness, self esteem, emotional bonding and appropriate self-expression.
Team building and trust are one of the many activities that help to assist in
mental and emotional growth."
Brain Injuries: "Programs often see behavioral changes in
riders improve from inappropriate responses to controlled and considered
responses. The movement of the horse provides increased muscle tone and balance
and riding skills can contribute to speech, sequencing and short term memory
improvement"
Spinal Cord Injuries and Amputations: Riding helps improve
balance, increase muscle strength and improve body awareness.
To learn more about the Horses for Heroes program and to
find PATH Intl. centers offering veterans' programs, visit www.pathintl.org