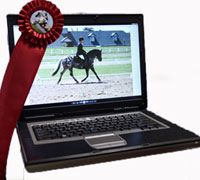 Competing in horse shows is expensive. Besides the entry
fees, office fees and stabling costs, competitors have to keep their gas tanks full
to trailer to the show grounds or pay someone else to transport their horses.
A new website,
HorseShow.com
, aims to eliminate most of the
costs involved in horse showing by allowing riders to upload videos where they
will be evaluated by licensed judges and placed against the other riders in
their class. For an entry fee of around $15, riders can submit their video and
compete without ever leaving the farm. Ribbons and/or prize money are awarded
to the top entries in each class, and all entries receive feedback from the
judge.
HorseShow.com aims to provide online competition for riders
of all breeds and disciplines. Helmets are mandatory for jumping and dressage
classes and show attire is encouraged, but not required. Protective leg boots
and wraps are allowed in some classes.
Currently, there are three virtual shows open and accepting
entries. The Landmark Hunter Challenge includes classes for hunters in
crossrails up to 3'6" plus equitation over fences and on the flat. Riders will
find the course diagram and guidelines for set up and filming in the class
specifications.
The Arabian Liberty Fall Classic is a single-class show open
to purebred Arabian mares, stallions and geldings. Horses will perform at
liberty to music for no more than 3 minutes. The videos will be judged by USEF "R"
judge, Karen Homer-Brown.
The Fall Harvest Dressage Festival offers classes for
Training through Fourth Level and will be judged by FEI "I" and USEF "S" judge
Natalie Lamping.
The Landmark Hunter Challenge and Arabian Liberty Fall
Classic are accepting entries through Dec. 11. The Fall Dressage Festival is
open until Dec. 18.
To learn more, visit www.HorseShow.com