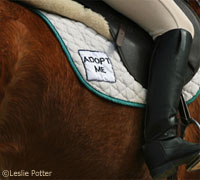 In October, the Thoroughbred Retirement Foundation (TRF) sent out a call seeking foster homes for Thoroughbreds that had retired from racing but had not yet found permanent, adoptive homes. However, many Thoroughbred enthusiasts are interested in helping, but don't have a farm or land to keep horses.
The TRF has created a way for all interested horse lovers to help support the rescued ex-racers. Through the Full Sponsorship program, individuals or groups can virtually adopt a horse, paying its regular costs of feeding and upkeep at $5/day.
"This helps the TRF and saves the horse having to be moved away from his pasture mates," said TRF's Jonathan Miller. "I think that is important, especially with the older horses. It is a win-win situation."
The list of horses currently available for sponsorship is posted online at www.thoroughbredsponsorship.org/list-of-all-available-horses. Among the currently available horses are:
Carterista, currently located at the Marion Correctional Facility in Florida, is used for the rehabilitation program there. He retired from racing at age 10 after a very successful career.
Native Ivory, a 24-year-old who lost his tail in the starting gate during his racing career, is located at the Blackburn Correctional Center in Kentucky.
Rocking Josh, who was abandoned and starved after he had won more than a half million dollars in his racing career, is now happy and healthy at a TRF facility in Oklahoma.
Several other horses are available for sponsorship, and some may be visited by appointment. To learn more about the program, visit www.thoroughbredsponsorship.org