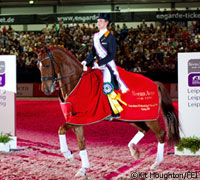 Adelinde Cornelissen of the Netherlands, shown here with Jerich Parzival after winning the World Cup final in Germany, won this year's FEI Best Athlete award. Photo: Kit Houghton/FEI
Five women were rewarded for their outstanding contribution to equestrianism at the Fédération Equestre Internationale (FEI) Awards ceremony on Monday, November 14 at Rio de Janeiro's Copacabana Palace Hotel.
The FEI is proud to announce that the winners of the FEI Awards 2011 are:
Soraya Ourrais (FRA/MAR)
Development Award
Nina Lamsam Ligon (THA/USA)
HSBC Rising Star Award
Alice Gaillard (FRA)
Best Groom Award
Meg Wade (AUS)
Against All Odds Award
Adelinde Cornelissen (NED)
Reem Acra Best Athlete
"Equestrianism is one of the only sports in which men and women compete as equals and we are proud of that," said FEI President Princess Haya. "But the accomplishments, dedication, determination and courage of our winners really stood out among the many nominations – male and female – that we received. Adelinde, Alice, Nina, Meg and Soraya are an example and an inspiration to the entire equestrian community."
Soraya Ourrais (FRA/MAR)
Development Award
Soraya won this awards for her enormous contribution to the revival of equestrian sport in Cambodia, where it disappeared in the 1970s in the tragedy of the Khmer Rouge regime.
A Level 1 FEI coach, Soraya trained more than 350 beginners, as well as grooms and Cambodia's first instructor and judge. In the absence of any equine veterinarians, she traveled to neighboring countries for advice and technical solutions to recurrent problems and established a network for the provision of medicine and vaccines. She also organized school trips, youth camps and courses to promote equestrianism and was the brain behind Horse Future, a program that benefits underprivileged children and has provided Cambodia with its national equestrian team.
Alice Gaillard (FRA)
Best Groom Award
Alice's equestrian adventures began more than 50 years ago at Etrier de Bourgogne, a riding club in Dijon, where, she still grooms nearly every day at the age of 75.
For decades, Alice juggled her job at a mustard manufacturer with grooming at the club and for top eventing riders Marie-Christine Duroy, Bruno Bouvier and Jean Teulere. Her work with Duroy and Teulere took her to the FEI World Equestrian Games™ and the Olympic Games.
Alice continues to groom for young athletes such as Astier Nicolas, whom she accompanied to Badminton this year. The riders consider it an honor to work with this emblematic figure of French eventing.
Meg Wade (AUS)
Against All Odds Award
Until Meg's fall from her horse at an Australian Endurance race in 2009, she was one of the discipline's leading international riders. She had competed in 65 160km (100mi) events and won 25 of them.
Meg's accident left her with a traumatic brain injury. She remembers nothing of the accident or the six weeks she spent in Canberra hospital. Out of a coma but in Post Traumatic Amnesia, she was airlifted to another hospital for rehab. She spent 255 days there.
In November 2010, Meg rode a horse for the first time since her accident with Riding for the Disabled. A few weeks later, she was riding in her home arena.
Meg's driving license was reinstated in January, meaning she can drive to events and ride a quad bike onto courses to monitor the horses that she continues to train and enter into competitions with other riders. In October, she completed a 5km celebrity ride at the Tom Quilty Gold Cup, the Australian National Endurance Championship.
Nina Lamsam Ligon (THA/USA)
HSBC Rising Star Award
Based in the USA, dual national Nina Lamsam Ligon rides for the Kingdom of Thailand.
At the age of 15, Nina rode on the USA junior team at the FEI North American Juniors and Young Riders Championships. Her successes prompted the Thai National Team to invite her to compete with them at the 2007 Southeast Asian Games in Pattaya. As the Thai Eventing team's youngest and first female rider, she won Individual Gold and contributed to Thailand's Team Gold win.
Nina's fourth place at the 2010 Asian Games in Guangzhou led the Thai team to a Silver medal. She has become an inspiration for young riders in Thailand and her success and hard work are significantly contributing to the Thai Equestrian Federation's leadership efforts to develop eventing, nationally and throughout Asia.
Adelinde Cornelissen (NED)
Reem Acra Best Athlete
The Reem Acra FEI World Cup™ Dressage 2010/2011 series proved to be a spectacular season for Adelinde and her powerful chestnut gelding Jerich Parzival. The Dutch duo won all five qualifiers they competed in before dancing to victory to the sound of Tchaikovsky's Nutcracker Suite at the Final in Leipzig (GER).
Success has continued to smile on the talented young Dutchwoman. At the FEI European Dressage Championships in August, she carried off the Individual Freestyle and the Individual Grand Prix Special titles in front of the elated crowd in Rotterdam.