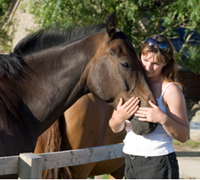 Did you adopt your horse from an equine humane
center, racehorse rehabilitation program, or rescue him from neglect or abuse?
The American Society for the Prevention of Cruelty to Animals (ASPCA) Home for the Holidays photo contest is recognizing rescued animals
of all species and the humans who love and care for them.
This holiday season, we have much to be thankful for,
including the unconditional love of our beloved companions.

The ASPCA Home for the Holidays Photo Contest
celebrates rescued pets and those who gave them a second chance—and a loving
home.


Submit the photo that best represents the special bond you have with your
companion and the difference a rescued pet makes in your holiday celebrations.
The contest opened on Nov. 18 and entries can be
submitted until December 16. The entries will be open for voting from Dec. 19
through Dec. 31. The top five entries will receive ASPCA gift packs and be
featured on the ASPCA's website.
For more information and official rules, visit www.aspca.org