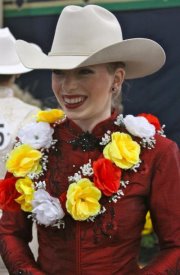 2011 USEF Youth Sportsman's Award winner Sascha Mills. Photo: Laurie Revard
The United States Equestrian Federation (USEF) is pleased to announce Sascha Mills as the winner of the 2011 USEF Youth Sportsman's Award. Mills was selected from an outstanding group of youth representing their respective recognized breed and discipline affiliates from across the country. An avid Morgan competitor from Goldsby, OK, she was nominated by the American Morgan Horse Association (AMHA).
"Winning this award is such an honor," the 17-year-old college freshman said. "I honestly was just thrilled that I was chosen to represent the
Morgan breed
."
Mills has shown an unwavering commitment to her sport. She started taking riding lessons in 2005 which quickly evolved into a passion. Her Christmas gift that same year: a Morgan horse. Since then, Mills has gone on to win three World Championships – in 2007, 2008, and 2009 – and is a World Gold Medalist. She has helped organize and fundraise for riding clinics to benefit junior exhibitors in her region, and was awarded the Shirley Givens Morgan youth sportsmanship award. Mills started the "T-Town Trotters" Morgan youth club, which promotes the Morgan breed and participates in fundraisers for the Justin Time for a Cure program at the Oklahoma University Cancer Institute. In 2007, Mills became a regional representative for the AMHA Morgan Youth Council and then went on to become a regional director for three years. This year, she was voted national vice president.
Mills said that with her USEF Youth Sportsman's Award win, she is following in the footsteps of someone she greatly admires and respects – her trainer, Jonalyn Gwinup.
"Last year when Jonalyn won the Cecil Brown [Memorial] Sportsmanship Award, I was so proud because I knew that if anyone deserved to win that award it would be Jonalyn," Mills said. "And then to learn that I possess some of the qualities that she exemplifies, just blows my mind."
Added mills: "Jonalyn has always taught me to be kind, to have compassion and to have humility towards our sport and my fellow competitors at all times and in anything I do. I have worked so hard to be a good role model in and out of the ring and to always appreciate what I have and it is so rewarding to see that pay off."
Her commitment does not end with her horses. As Mills can attest, she's used to balancing quite a hectic schedule. In high School, she maintained a 4.27 GPA and was salutatorian. She was selected to the Oklahoma School of Science and Math, received a National Society of High School Scholars scholarship, and was president of the National Honor Society, Student Council Senior Representative, Science Club treasurer, senior officer for Fellowship of Christian Athletes, assistant editor for the Year Book, and a member of the Spanish Club, Future Farmers of America, and Family, Career and Community Leaders of America.
Since she was a young girl, Mills has wanted to become a doctor. To pursue that dream, she is studying biochemistry for pre-med majors at the University of Tulsa. The first-year student hopes to specialize in thoracic surgery.
Mills will receive a trophy, a $1,000 grant to the educational program of her choice, and a lifetime membership to USEF, valued at $2,500. Along with the other 10 national nominees, Mills will be recognized in January at the 2012 USEF Annual Meeting in Cincinnati, OH.
The other national nominees are:
Ayla Spry, Milaca, MN (American Endurance Rider Conference)
Tori Gray, Louisville, KY (American Saddlebred Horse Association)
Emily Hogye, Ben Lomond, CA (American Vaulting Association)
Haley Harrington, Rancho Palos Verdes, CA (Arabian Horse Association)
Katie Berger, Naperville, IL (International Andalusian/Lusitano Horse Association)
Maggie Greene, Highland, IL (Paso Fino Horse Association)
Drew Carlin, Columbia, SC (United States Dressage Federation)
Jacob Pope, Owings Mills, MD (United States Hunter Jumper Association)
Ashley Rosendale, Branchville, NJ (United States Para Equestrian Association)
Rachel Laufer, Utica, PA (Welsh Pony & Cob Society of America)
The USEF Youth Sportsman's Award is designed to develop youth to become leaders in the equine industry from all breeds and disciplines. This program provides an opportunity for the USEF to recognize outstanding youth members for their achievements.
Previous winners include:
2010: Kelsey Kimbler (Arabians/Endurance)
2009: Maxi Gumprecht (Morgans)
2008: Madeleine Genereux (Hunter/Jumper
2007: Kristen Kimbler (Arabians/Endurance)
2006: Kaitlin Novotny (Morgans)