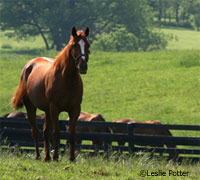 A good horse rescue will have plenty of hay and/or grazing available for all horses. Photo: Leslie Potter
Feeling jaded by the commercialization of the holiday season? Looking for a meaningful gift for your friends and family this year? Consider donating to a local equine charity.
Donating to charity in a loved one's name is an increasingly popular alternative to the regular holiday gift-giving. For the horse lovers in your life, donating to an equine non-profit organization can be the perfect gift.
There are plenty of excellent national and international organizations that help horses after natural disasters, in large-scale abuse and neglect cases, and in third-world countries. However, by choosing a local organization, you know exactly where your donation dollars are going.
Here are some things to think about when donating to a horse charity.
Before writing a check, be sure to find out some background information on your charity of choice. One indicator of a well-run charity is that it has obtained a 501(c)(3) status, which requires a certain standard of record-keeping. Donations are also tax-deductible when given to a 501(c)(3) organization.
Consult CharityNavigator.org, which rates nonprofit organizations based on their financial health and transparency. Some local charities are not listed, but CharityNavigator.org offers suggestions for doing your own research on organizations that they have not evaluated.
If possible, visit the charity in person, especially if you are looking into donating to a horse rescue. While it is common to see underweight horses at a rescue, there should be plenty of hay and/or pasture and all horses should have access to shelter. A reputable rescue will be glad to answer your questions about feeding, vet and farrier care as well as donation and adoption guidelines.
Many centers for equine-assisted therapy have 501(c)(3) status and will use donations to purchase tack and equipment or to provide scholarships for riders who would not otherwise be able to afford lessons. Look for an organization that is certified with PATH Intl.
Several states have organized programs called hay banks, which help horse owners who have hit hard economic times. Donations of hay allow responsible owners to feed their horses and continue to care for them instead of sending them to rescues or auctions.
If there are no equine charities in your local area, another option is to donate to groups in areas that suffered recently due to natural disasters. For example, horses in Texas suffered greatly due to droughts and resulting wildfires during 2011. Tornadoes and flooding caused hardship in the southeast and Midwest. Hurricanes caused devastation and flooding on the east coast. After natural disasters, many people become separated from their animals and are unable to reclaim them, leaving rescue organizations overwhelmed.
To start your search for a local charity or a rescue in the geographic area you'd like to help, visit our horse rescue page.
Further Reading
Finding a Reputable Horse Rescue
Help horses by volunteering at an equine charity
International charities help equine victims of poverty