The nominations have been made and now all United States Equestrian Federation (USEF) members have the opportunity to vote for their favorite horses and riders to select the Horse of the Year and Equestrian of the Year.
Eight riders have been named Equestrians of Honor and six horses have been awarded Horse of Honor titles. These horses and riders were recognized for their achievements in 2011 and are the nominees for the overall awards.
A new development for 2011 is the crowning of two horses of the year: one will be the international horse of the year, selected from the FEI sports, and a national horse of the year selected from the non-international breeds and disciplines governed by the USEF.
The nominees are…
National Horse of the Year
Sjoerd (Tsjalke 397 x Anne G)
2005 Friesian Stallion
Owner: Xena Vimercati
In the Friesian breed, there are few horses that can boast as impressive a track record as Sjoerd. In his young six years, the stallion has amassed 38 Lifetime World/Grand Champion National Champion titles and has earned more career points than any other Friesian in the history of the International Friesian Show Horse Association (IFSHA). It comes as no surprise that Sjoerd is the only one of his breed to have twice been named the United States Equestrian Federation's (USEF) Friesian Horse of the Year.
In 2011, Sjoerd earned 14 World/Grand National Champion titles and four World/Grand National Reserve honors. In addition, the stallion was undefeated for the year in halter. While his first foal crops are only yearlings and weanlings, they are winning top honors in the show arena, demonstrating Sjoerd's strength as a breeding stallion as well.
Starr Llight (Reign On x Charm Eta)
1996 Arabian Mare
Owner: Leah Beth Boyd
"Dynamic and a Diva" are the perfect words to describe this 15-year-old mare. With the young Leah Beth Boyd in the stirrups Starr Llight ended up on top after the ride-off for the prestigious Open Purebred English Pleasure title on Saturday night at the 2011 Arabian National Championships. In doing so, the mare became the most winning Purebred English Pleasure mare of all time and only the second mare since 1988 to win the prestigious title. At age 15, she was also the oldest mare, and second oldest horse overall, ever to garner the coveted award.
Purchased by her young owner in 1999 from a dispersal sale, this mare has gone on to win 11 National or Reserve Championship titles. The pair is the only Arabian horse/rider team to ever win a National Championship in the Junior exhibitor, the Amateur exhibitor, and the Open division.
CH The Daily Lottery (Sultan's Great Day x Callaway's Lady Lottery)
2004 American Saddlebred Gelding
Owner: High Hickory Farm
When it comes to the Five-Gaited division for Saddlebreds, CH The Daily Lottery was a jackpot payout in 2011 with an undefeated record among amateur competitors. From the string of Grand Champion titles at the UPHA/American Royal, Kentucky Fall Classic, Midwest Charity Horse Show, Bonnie Blue National, and the Kentucky State Fair World's Championship Horse Show, this impressive chestnut gelding dominated the scene like no other.
In fact, this has been the case well beyond this year's competition calendar, as the 7-year-old has long been outperforming his competition in the show ring with his rider, Gabe Deknatel. Trained by John and Tammie Conatser, CH The Daily Lottery is handsome, fast, beautifully big motioned – and seemingly invincible.
International Horse of the Year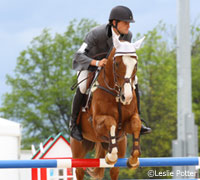 Boyd Martin rides Neville Bardos in the stadium jumping phase of the 2010 Rolex Kentucky Three-Day Event. Photo: Leslie Potter
Neville Bardos (Mahayaa x Zambia)
1999 Australian Thoroughbred Gelding
Owner: Neville Bardos Syndicate
2011 marked a year of tragedy for eventing rider Boyd Martin. He lost six horses in a horrific barn fire on Memorial Day but was able to save five. One of those saved was Neville Bardos. The failed Australian racehorse was trapped in the fire for nearly 45 minutes before Martin was able to pull him out. Neville suffered burns and severe smoke inhalation that required extensive rehabilitation. The prognosis was grim, but he fought through it and defied every odd. He made a miraculous recovery to return to competition two months later. Martin lost his father and father-in-law over the summer and he set a big goal for Neville to try to get him through the tragedy.
Neville and Martin went on to not only compete in the CCI4* at the Land Rover Burghley Horse Trials – but they placed seventh out of 81 entries in September. He jumped only one of nine double-clear cross-country rounds over arguably the world's toughest cross-country track.
Coral Reef Via Volo (Clinton x Run Away)
1998 Belgian Warmblood Mare
Owner: Coral Reef Ranch
Though small in stature (15.3h) and nicknamed "Shrimp," Coral Reef Via Volo is a giant when it comes to jumping. With Beezie Madden, she topped the Rolex/USEF Show Jumping Ranking List for much of the 2011 competition year, and went on to impress the world at the Pan American Games in Guadalajara, Mexico. She led Team USA's Gold-medal effort, which also secured 2012 Olympic qualification. She added only one time fault through five rounds of jumping and won Individual Silver to back up the Team Gold.
In 2011 Via Volo and Madden racked up numerous wins across the globe. They were on the winning team in the Nations Cup at the CSIO4* Wellington. They won the D-LINE Cup 1.60m Spruce Meadows, and the Longines International Grand Prix of Rotterdam (CHIO). Having won their first competition together only a year ago, this new partnership has proved an incredible one so far.
Weltino's Magic (Weltino x Diva)
2002 Westphalian Gelding
Owner: Dr. Jen Hlavacek
Weltino's Magic and Steffen Peters were undefeated in 2011, winning at the Intermediaire I level at the Festival of the Horse CDI and the Del Mar
National CDI in California before heading to CHIO Aachen and taking on the best small tour horses in the world. They continued their unbeaten streak in Aachen, Germany, and then returned home to sweep all three tests in the USEF National Intermediaire I Dressage Championships at the 2011 Collecting Gaits Farm/USEF Festival of Champions in September to earn their spot on the U.S. Team for the Pan American Games.
They set a remarkably high standard at the Pan American Games and brought home Team and Individual Gold medals. 'Magic's' character comes through in his performance and he has evolved into a top contender. Started by Peters' wife, Shannon, together they were the reserve champions in the Markel/USEF National Young in the Six-Year-Old division. Peters took the reins in 2009.
Equestrian of the Year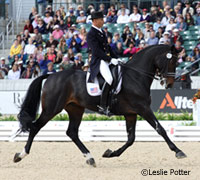 Steffen Peters rides Ravel at the 2010 Alltech FEI World Equestrian Games. Peters has won two USEF Equestrian of the Year awards and Ravel has been USEF Horse of the Year once. Photo: Leslie Potter
Steffen Peters
San Diego, CA
Dressage
The William C. Steinkraus Trophy is presented to an equestrian competing in the Olympic disciplines of dressage, eventing, or show jumping.
Steffen Peters continues to forge his place in equestrian history. Not only did he break records all year with Weltino's Magic and culminated an undefeated season with a double Gold medal-winning effort at the Pan American Games – he also scored the World Dressage Masters – Palm Beach title with Ravel. He led Team USA to a sweep of all the medals at the 2011 Pan American Games, after winning in California, Germany and New Jersey with Weltino's Magic. He was undefeated with the horse and broke the 80% mark. He took on the best small tour horses in the world at CHIO Aachen in Germany and left them all in his wake. Peters won two Collecting Gaits Farm/USEF Dressage National Championships in 2011 – scoring again with Weltino's Magic at the Intermediaire I level and Ravel – in the Grand Prix. He won all six classes at Gladstone over that weekend. Ravel won eight of 11 classes he contested in 2011, he was undefeated in the U.S. and was never out of the top five at CHIO Aachen, including a second-place finish in the Freestyle.
Peters is the past recipient of the William C. Steinkraus Trophy in both 2008 and 2009.
Karen Waldron
Shawsville, VA
Saddlebred / Hackney / Friesian
The Bill Robinson Trophy is presented to an equestrian competing with horses or ponies across all the breeds in harness or for driving performance in non-international competitions.
It's quite the accomplishment to win World Championships within a breed, but when you make this kind of mark across a wide array of breeds, it takes things to an entirely different level. In 2011, Karen Waldron prevailed in both the Hackney and Friesian divisions.
With her Hackney ponies and horses, Waldron dominated the Amateur Ladies Harness and Hackney Pony World Championships at the prestigious Kentucky State Fair's World's Championship Horse Show. Turning her hand to Friesians, she also earned the 2011 IFSHA Friesian World and Grand National Championships in Carriage Pleasure Driving-Concours D'Elegance, Carriage Pleasure Driving-Working Pairs, and Carriage Driving-Turnout Pairs.
Scott Stewart
Flemington, NJ
Hunter
The Emerson Burr Trophy is presented to a rider in the hunter divisions in any breed over fences.
The words "Leading Hunter Rider" are synonymous with the name Scott Stewart who won consistently with the elegant riding style that has garnered him championship titles for decades. He was the leading hunter rider at the Devon Horse Show and Alltech National Horse Show in 2011. He picked up various Champion and Reserve Champion honors at the USHJA International Hunter Derby Finals, WCHR Palm Beach, Devon, Upperville, Bluegrass Festival, and the Hampton Classic.
He has produced scores of hunters who have excelled with him, as well as in the amateur and junior ranks. His eye for a horse and ability to diversify them is second to none. He was named the Show Hunter Horseman of the Year by The Chronicle of the Horse, Stewart's style, both in and out of the ring, hasn't gone unnoticed. He won the Emerson Burr Trophy in 2003 and then again in 2007 and 2008.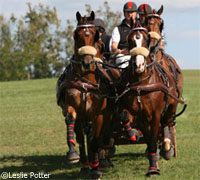 Chester Weber competes in the marathon phase at the 2009 Kentucky Cup CDE. Photo: Leslie Potter
Chester Weber
Ocala, FL
Combined Driving
The Becky Grand Hart Trophy is presented to international-level non-Olympic athletes.
Four-in-Hand driver Chester Weber won on both sides of the Atlantic Ocean in 2011 as he developed a new pair of horses to help lead his team. He began his season in Florida scoring at Sunshine State, Little Everglades and Live Oak International. He then took his team to Europe and won at CAIO Veces, CAI Altenfelden and CAIO Riesenbeck. He was the Reserve USEF National Four-in-Hand Driving Champion in 2011 and rounded out the year with a win at Katydid in Aiken, SC.
With his considerable experience and expertise, Weber stepped into the role of Chef d'Equipe and served in this capacity for the U.S. drivers in their Bronze-medal win at the World Pony Team Championships in Slovenia. He also commandeered the 10th-place U.S. Team finish at the FEI World Pair Championship, where he again served as chef. He is a member of the USEF Board of Directors and is an 'r' driving judge. Weber won the Becky Hart Trophy in 2008.
Janice Giles
Pleasureville, KY
Friesian/Saddlebred
The Barbara Worth Oakford Trophy is presented to an equestrian showing in a non-reining Western discipline.
A disciple of the great Helen Crabtree, Janice Giles has had success exhibiting a diverse group of horses and breeds. She has found her role as trainer to be the one in which she succeeds the most. She and her students won across the nation in 2011.
Giles introduced the lovely Friesian Victor FC to the show ring and he was crowned the International Friesian Show Horse Association (IFSHA) National Champion Western Pleasure Open, National Champion Junior Western Pleasure, and World Champion Open Western Pleasure. Her work with Victor FC has paved the way for the Friesian to gain popularity in the Western discipline.
Steven Stiller
Elkhorn, WI
Andalusian/Lusitano/Friesian
The Norman K. Dunn Trophy is presented to the equestrian competing at halter or in-hand.
Steven Stiller has already produced a myriad of top results throughout his career to stand among the top professionals in the sport. Over the past five years, this Adult Amateur has amassed showing successes numbering in the hundreds.
The word "domination" aptly defines Stiller's performance at-halter during the IFSHA World and Grand National Championships in 2011. In two days of competition, Stiller collected five World Champion, two National Champion, six Reserve World Champion, two Reserve National Champion, and 10 Top Five Champion titles across a wide array of at-halter classes.
Debbie Foley rides Callaway's Annabel Allison in a five-gaited class at the 2009 American Saddlebred World's Championship Horse Show. Photo: Leslie Potter
Debbie Foley
Louisville, KY
Saddlebred
The C.J. "June" Cronan Trophy is presented to those excelling in under saddle show breeds.
The Saddlebred world has been influenced by Debbie Foley who has been an institution at the top since 1977. She has trained more than 100 World Champion title winners in a variety of divisions and she has ridden or driven 65 of those champions to victory herself.
In 2011, she continued her influence by training and showing Callaway's Annabel Allison to the Five-Gaited Mare World Champion title. Under Foley's expertise, Callaway's The Best and Brightest earned the Ladies Five-Gaited Mare World Championship, and Just Plain George won the World's Championship Three-Year-Old Five-Gaited Stallion/Gelding class.
Her influence on the industry is extraordinary, which matches the quality of horses she produces.
Danielle Barrasso
Chicopee, MA
Arabian/Friesian
The Vaughan Smith Trophy is presented to the best rider of any horse or pony breed shown in hunter pleasure, show hack, hunter hack, dressage hack, costume, side saddle, or Western dressage.
Danielle Barrasso has spent her life with horses and her success in 2011 comes as no surprise. This past year saw her hard work pay off with her stallion, Steffen S, winning World Champion, Dressage Sport Horse Friesian Stallion. Not to be outdone, with her Friesian, Renaissance, she won three World Championships (Western Dressage, Western Pleasure, and Driving Costume).
Her successes in 2011 continued with the Friesian gelding, Hilbrand fan Fjildisaht. She won another World Championship in Hunter Pleasure Open and a National Championship in Hunter Pleasure Open. Aboard Klaas fan Synadea, she won three more World Championships and continued to show her diversity, taking the top honors in: Dressage Hack Open, Show Hack Open, and Fantasy Costume Open, plus two National Championships (Dressage Hack Open and Show Hack Open).
Also a breeder and active member in the horse community – Barrasso actively volunteers on show committees for several associations and clubs.
Voting is Now Open! If you are a USEF member, click here to submit your votes.