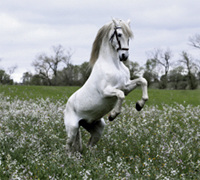 The Equine Photographers Network has announced its 2012 Equine Ideal Photo Contest. This annual contest is open to amateur and professional horse photographers with several categories to showcase the best equine images.
Entries are now being accepted and can be submitted until Feb. 1, 2012. After the finalists are selected, a special Peoples' Choice voting session will be open from March 4-18, and the winners of all categories will be announced April 1. There is an entry fee of $15 for each photo submitted, and every entry will receive feedback from the judges.
A special "Wild Horses" category has been added for this year's contest. The entries in this division should depict any horse living in the wild, or horses born in the wild and now residing in a sanctuary or holding facility. 50% of the proceeds from entries in this category will be donated to The Cloud Foundation.
The other categories are:
Performance: Horse(s) in competition, training or work. Under saddle or in harness. Horse(s) must be in motion.
Horses Human Bond: Illustrating the bond between horse and human. Must show a horse with a person, or parts of horses and humans interacting and showing a connection.
Horses Human Portrait: Portraits of horses and humans together. Must show a horse with a person in an environmental, contemporary or formal portrait.
Head Study: The horse's head only, no people. May be one or multiple heads.
The Horse at Liberty: Showing the horse in its natural environment: pasture, in the wild, etc. May or may not be in motion.
Extreme Action: Rodeo, racing, jumping, obstacles, or running free, must depict extreme action and the athleticism of the horse.
Black & White: Black and white photos of horse(s) Sepia also allowed. No color.
Artistic: Your artistic treatment, may include Photoshop or darkroom manipulation or creative use of camera controls.
Details: Close up detail studies of the horse: eyes, body parts, horse related gear and equipment also qualifies.
Professionals and amateurs will be judged separately, and six placings plus four honorable mentions will be awarded for each category, along with Best in Show professional and Best in Show amateur awards. Professionals are defined as entrants with earnings greater than $1000 annually from photographic products or services.
To read the full rules, enter your photo or view last year's winning entries, visit www.equinephotocontest.com.
Here are some resources to help create better horse photos:
Photo tips from John Hockensmith
Photo tips from Christina Handley
Photo tips from Bob Langrish
Photo tips from Sharon Fibelkorn
Photo tips from Shawn Hamilton