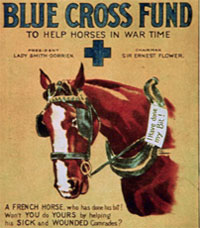 Thanks to the film adaptation of War Horse, which opens in U.S. theaters on Sunday, there is a wave of interest in the historic use of horses in war. The Blue Cross has answered that interest by opening its collection of war horse memorabilia for free viewing online.
The Blue Cross is a resource for animal care and welfare in Great Britain that provides assistance for pet owners, helps facilitate adoptions and educates the public on responsible ownership. The Blue Cross Fund was originally launched in 1912 as part of what was then called Our Dumb Friends League. At that time, the function of the Blue Cross Fund was to help animals that had been affected by the first and second world wars. Over time, the organization's original name became less appealing, and The Blue Cross became the charity's official title.
The charity's War Horse Collection can be viewed on its website, bluecross.org.uk. Included in the collection are images of posters, artwork, articles and promotional materials from the Blue Cross during World War I. Audio slideshows display photographs of horses used during the war along with stories and historic information. Books, letters and poems from the WWI era help to paint a complete picture of horses in wartime.
Click here to view the entire Blue Cross War Horse collection.