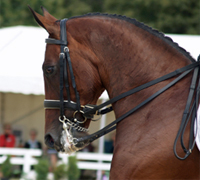 The Dressage Foundation has announced that a total of $10,000 has been awarded to U.S. dressage instructors through the Major Anders Lindgren Scholarship program. Due to the recent restructuring of the scholarship guidelines, to provide up to three scholarships per year for the recipients to train in the United States, interest was very high. This year, the Selection Committee chose the following recipients:
Sarah Geikie (CT) was awarded the $6,000 Lindgren Scholarship. Sarah has been a professional dressage trainer for 30 years. She is a popular clinician across the country, an FEI dressage judge, a competitor, and a USDF Certified Instructor through 4th Level. She is also an Examiner and faculty member for the Instructor Certification Program. Sarah will use the scholarship funds to train with Kathy Connelly.
Sara Schmitt (NJ) is the recipient of a $2,000 Lindgren Scholarship. She has been instructing for 25 years, from Training Level through Grand Prix. Sara is the resident trainer at Hawk Hollow Ranch in Bedminster, NJ, and is also an active competitor. She plans to train with Belinda Nairn-Wertman in early 2012.
Emily Wagner (KS) was also awarded a $2,000 Scholarship, and will train with Lilo Fore in January and February. She has been an instructor for nine years and teaches mostly adults who ride Training Level to Prix St. George. Emily and her homebred horse, WakeUp, represented the U.S. at the 2010 World Breeding Championships.
Since 1996, The Dressage Foundation has offered annual instructor scholarships in Major Anders Lindgren's name. Major Lindgren was an accomplished dressage rider, having won the 1971 Swedish Dressage Championship and ridden on the Swedish Olympic Team in 1972. He also won the Scandinavian Eventing Championship in 1959. Lindgren's contribution to American dressage was large, as he was solidly committed to the education of U.S. dressage instructors. Over a ten-year period, almost 1,000 participating instructors learned from his systematic, structural approach to teaching dressage at the USDF/Violet Hopkins National Seminars for Dressage Instructors, and then at the National Symposium. Major Lindgren passed away in 2010, at the age of 85. The Dressage Foundation is proud to offer these important scholarships in his honor.
Applications for the three Lindgren scholarships are due to The Dressage Foundation by September 30th of each year. A Grant Selection Committee will review each application and determine the recipients, if qualified applications are received. For more information about the Major Anders Lindgren Scholarships and The Dressage Foundation, please contact Jenny Johnson at (402) 434-8585 or visit www.dressagefoundation.org.