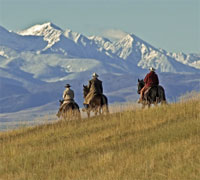 January is usually considered a time for skiing and snowboarding in Colorado, but visitors to Denver can get a taste of summer show season this month thanks to the equine events at the National Western Stock Show (NWSS).
Since 1906, the NWSS has been held in Denver as a market to showcase the best beef cattle in the west. The horse show was added in 1907 and immediately became a popular fixture, often selling out as spectators flocked to see hunters, jumpers and saddle horses. The NWSS held its first rodeo in 1932, bringing it closer to the western legacy event it is today.
This year's event kicked off on Thursday with a parade and a Longhorn cattle drive through downtown Denver. Denver Mayor Michael Hancock declared the Thursday, "Dress Western Day," encouraging residents to participate in the events.
Although the saddle horses from the early years of the show are gone, the NWSS now features an extensive schedule of Quarter Horse, Paints and western events in addition to hunter, jumper and equitation classes. Draft horses and mules, also a feature of the show's early years, will compete in halter and performance classes during the final week of the show.
For ticket info and a full schedule of equine events at the NWSS, visit www.nationalwestern.com.