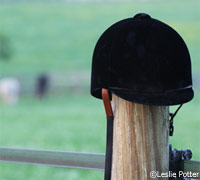 The popular helmet awareness campaign Riders4Helmets will be hosting the 3rd Riders4Helmets Safety Symposium on January 14th, 2012, at the Hilton Airport Hotel, Australian Avenue, West Palm Beach, FL (International Room), from 8.30am to 5pm. The symposium is being sponsored by Tipperary, Charles Owen, Samshield, Ovation, One K Helmets, GPA, Equine Risk Management Group LLC, Equestrian Collections and Point Two. For those who cannot attend the symposium in person, sessions will be available via live feed.
The Helmet Safety Symposium will bring together representatives from various corners of the equestrian world to discuss the importance of wearing helmets, rider safety and to improve helmet designs, rules and more. The event will provide a series of lectures and panel discussions throughout the day. Many in attendance will also sit on the panels, including equestrians, representatives from the helmet safety testing authorities, helmet manufacturers, equestrian organizations, and neurosurgeons. The chairs of the meeting will be Dr. Craig Ferrell, physician to the United States Equestrian Team and Chair FEI Medical Council, and, Lyndsey White and Chad Mendell of Riders4Helmets.
"We are very excited to be hosting the 3rd Riders4Helmets Safety Symposium and to see it continue to expand," said Lyndsey White, co-founder Riders4Helmets. "Awareness of the importance of helmets has grown significantly in the past two years. The symposia are a fantastic opportunity to bring together individuals, corporations and organizations all in one place, to continue important discussions of equestrian safety related to helmets."
Symposium topics will include the following:
Open to Change: Facilitating Conversations about Wearing a Helmet with Western Riders
New Insights Into Traumatic Brain Injuries in Equestrian Sport
Helmets in the Western World
What It Is Like Living with TBI
Full Recovery Was A Prayer Not The Anticipated Result
Helmets In 4H
Local Helmet Legislation
The Latest In Eventing Safety
The Safety Implications Of Having An Incorrectly Fitting Helmet
Gaining Acceptance In The Equestrian Community For Helmet Use
We Are All Role Models
Fighting Post Concussion Syndrome
Riders4Helmets Safety Incentive – Thinking Outside The Box To Get Western Riders To Strap One On!
The Christen O'Donnell Equestrian Safety Helmet Act
Speakers include
Olympians Courtney King-Dye , Lendon Gray, Gina Miles and Darren Chiacchia
World Champion Cowgirl Tammy Sronce
California 4H Equine Educational Committee representative Tisa Aley
Equestrian Sports Psychology Consultant Tonya Johnston
Neurosurgeon Allan Sills, M.D
Former Champion Jockey P.J. Cooksey
FEI Dressage Competitors Reese Koffler-Stanfield and Mary Bahniuk Lauritsen
Julie Norris
Megan Gardiner
Barrel Racing and Extreme Mustang Makeover Competitor Mary Miller Jordan.
To view the full symposium agenda and speakers, please visit www.riders4helmets.com
Attendance to the symposium is open to any member of the public, but individuals who plan to attend are requested to either pre-register in advance, or, will need to register upon arrival at the symposium. To pre-register, please visit www.riders4helmets.com
Riders4Helmets was founded in early 2010 after Olympic dressage rider Courtney King Dye was seriously injured in a riding accident. King Dye, who remained in a coma for a month following her accident, was not wearing a helmet at the time of the accident and continues to undergo rehabilitation. The goal of the Riders4Helmets Campaign is to educate equestrians on the benefits of wearing a properly fitted and secured, certified helmet.