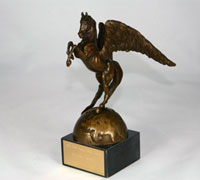 The national governing body of equestrian sport in the
United States is holding its annual meeting in Cincinnati, OH this week. The
United States Equestrian Federation (USEF) convention will run through Saturday,
Jan. 14 and parts of it will be broadcast online.
Throughout the course of the convention, each breed and
discipline governed by the USEF will hold committee meetings. During those
committee meetings, rule changes may be discussed that could affect the
upcoming competition year. For a detailed schedule of events, visit the
USEF Convention website
.
This year's Horses of the Year will be named at the Horse of
the Year dinner and reception on Friday evening. For the first time, two Horse
of the Year awards will be given: one for a horse competing in international
disciplines and one representing a national breed or discipline.
On Saturday, the Pegasus Awards Dinner will take place where the annual lifetime achievement award will be given to Olympic eventer Jim Wofford. Combined driver Jacob Arnold will be honored with the title of Junior Equestrian of the Year. The 2011 Equestrian of the Year will also be named during the gala.
Watch the Pegasus Awards Dinner live at
7:30 PM Eastern at USEFNetwork.com