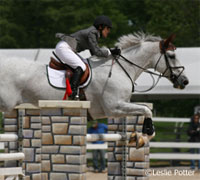 Margie Engle is one of the riders expected to compete in the Olympic trials for the U.S. show jumping team at the Winter Equestrian Festival. Photo: Leslie Potter
Jan. 11 marked the first day of the Winter Equestrian Festival (WEF), one of the largest equestrian competitions in the world. According to event organizers Equestrian Sport Productions, the WEF will draw 5,000 horses and 2,800 riders from 30 countries between now and the end of the festival on April 1.
This year, the WEF will host the second annual
College Preparatory Invitational Horse Show
from Jan. 13-15. The competition is open to young hunt seat and dressage riders by invitation and uses a similar format to intercollegiate and interscholastic (high school) competition. Riders use borrowed horses and tack, which alleviates the cost of transporting and stabling a horse at a show and introduces young riders to the catch riding experience used in intercollegiate horse shows. College equestrian coaches will be at the competition to meet riders and answer questions about their programs.
A favorite annual event, the Nespresso Battle of the Sexes, will return this year on Jan. 28. Top equestrians will go head-to-head in this show jumping competition, which has been won by the women every year since the class launched in 2009.
The Global Dressage Festival is being held in conjunction with the WEF at a refurbished venue just across the street from the show jumping stadium. For more information and a full schedule, visit www.dressageshowinfo.com/FLMainPg.html
The highlight of this year's WEF for many equestrian sport fans will be the Olympic show jumping team trials scheduled for March 21-24. The top riders from the trial will be short listed for the team to represent the United States in London this summer. Additional trials to determine the final team will take place later in the year.
For more information and a schedule of events, visit www.equestriansport.com