Steffen Peters was awarded his
third USEF Equestrian of the Year title last weekend at the USEF Convention in Cincinnati, Ohio. Peters also earned the title in 2008 and 2009. Photo: Leslie Potter
Equestrian of the Year
Is Steffen Peters the greatest American equestrian? The United States Equestrian Federation (USEF) membership seems to think so, voting Peters to his third Equestrian of the Year title in four years. The award was given last weekend during the USEF Convention in Cincinnati, Ohio.
Peters has been a pillar of American dressage for many years, and 2011 is no exception. With former Horse of the Year, Ravel, he took home two gold medals from the Pan-American Games in Guadalajara, Mexico last summer. Additionally, he had an undefeated season with his intermediate horse, Weltino's Magic, who also received a nod this year with a nomination for International Horse of the Year. At the Collecting Gaits Farm/USEF Dressage National Championships, Peters piloted both Ravel and Weltino's Magic to national champion titles in Grand Prix and Intermediaire I, respectively.
Peters set a new record this year as the first person to receive three Equestrian of the Year titles. He earned his previous two in 2008 and 2009.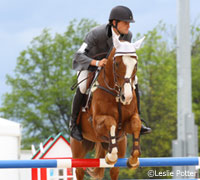 International Horse of the Year
Neville Bardos is a survivor. The Australian-born Thoroughbred was cast off after his unremarkable racing career ended, but as fortune would have it, he caught the eye of eventer Boyd Martin. Martin suggested the horse to a friend who was in the market for a new mount, but upon taking him for a test ride, that friend declared that Neville had no future in jumping and planned to sell him to slaughter. Martin again intervened and put down the $850 purchase price to take Neville home as his own prospect.
The pair became successful well beyond what Neville's modest price tag would suggest with top placings in events in Australia and the U.S., including a ninth place finish at the 2008 Rolex Kentucky Three-Day Event and a fourth at the same event in 2010. Neville and Martin were the highest-placed Americans in eventing at the 2010 Alltech FEI World Equestrian Games.
Tragedy struck Martin's training operation in 2011 when a midnight fire claimed six of the 11 horses in the barn he was renting from fellow eventer Phillip Dutton. One of the few bright spots in that dark time was that Neville was among the horses rescued from the fire. As he recovered in the veterinary clinic, it was uncertain whether Neville would survive, much less compete again. He proved his strength, recovering quickly and fully enough to finish in seventh place at Burghley, one of the toughest competitions in international eventing, less than four months after the fire. Now Martin is looking toward the 2012 Olympics with the horse who has defied the odds so many times already in his 13 years.
National Horse of the Year
With a remarkable presence and a diverse array of championship titles to his name, six-year-old Friesian stallion Sjoerd (pronounced "shord") earned the most votes to be named Horse of the Year for national breeds and disciplines. Undefeated in halter, Sjoerd proved that he was more than just a pretty face by winning 14 world and grand national titles and four reserve world and grand national titles in 2011. He competed successfully in saddle seat, hunter, dressage and western on the International Friesian Show Horse Association circuit, and even took titles in the walk and trot division with a young rider in the irons.
To watch video highlights of all of the nominated horses, plus interviews with equestrians of honor and the complete USEF Pegasus Awards Dinner, visit USEFNetwork.com