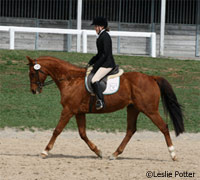 Thoroughbreds that have moved on from their racing careers can be found in the show ring, on the trail, gaming and even on the silver screen. A new segment in the upcoming season of Unbridled on HRTV, titled THORO'TALENT will highlight some of the remarkable horses who have gone on to great things after life on the track ended.
Unbridled
Executive Producer Susan Kayne has announced that one of the featured horses will be Finder's Key, one of the horses who played Joey in the movie War Horse. Finder also starred in the 2003 movie Seabiscuit. Although he never won a race, he is an example of how Thoroughbreds can achieve greatness in any career.
Plans are underway for THORO'TALENT features on other ex-racers who have had great success in the grand prix show jumping arena.
Unbridled is seeking submissions of stories about retired racehorses who have achieved success and changed lives in second careers, whether they are show-ring champions or special backyard companions. Submissions will be accepted from Jan. 10-31 for the 2012 season at ThoroTalent@UnbridledTV.com
For more information, visit unbridled.tv
Further Reading
Starting over with Thoroughbreds
A Second Chance for Thoroughbreds