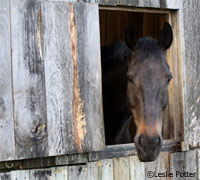 A proper quarantine procedure for horses coming into a new stable
is the best way to prevent an outbreak of EHV-1. Photo: Leslie Potter
UPDATE 1/19/12: A ninth horse at the same Orange County, Calif. facility has tested positive for EHV-1 today. One of the horses that had tested positive earlier became recumbent, and was euthanized. A necropsy will be performed to determine the cause of the horse's recumbency.
ORIGINAL ARTICLE:
On Jan. 11, a horse at a large equestrian facility in Orange County, Calif. showed neurologic symptoms of Equine Herpesvirus -1 (EHV-1). The horse was isolated and the facility is under quarantine according to the California Department of Food and Agriculture (CDFA).
EHV-1 can cause respiratory or neurologic diseases and abortion in pregnant mares. Most horses are vaccinated against the respiratory strain of the disease, also called Rhino, but the neurologic form has no reliable vaccine. Outbreaks put horse owners on edge as the disease is highly contagious and can be fatal. However, the current outbreak is currently isolated to a single facility and should not cause alarm to owners of horses at other stables.
After the initial EHV-1 case at the Orange County facility, several other horses tested positive. Two new cases were confirmed on Jan. 12 and another two on Jan. 13. On Wednesday, Jan. 18, three more horses at the facility tested positive for EHV-1. Of the eight infected horses, only the first one has displayed neurologic symptoms.
There were two outbreaks of EHV-1 in California in 2011, according to the CDFA, but this outbreak is not related to either of them. Neither the current case nor the other two 2011 cases were related to the highly publicized outbreak that began at a cutting horse show in Utah in spring of 2011.
Earlier this month, a horse in North Carolina tested positive for the neurologic strain of EHV-1, a first for that state. The horse was quarantined at a veterinary hospital, and no other cases were reported.
For up-to-date information, visit www.cdfa.ca.gov and www.ncagr.gov