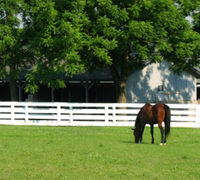 From now through February 29, Thoroughbred owner and breeder Paul Saylor will match any gift, of any size, to the "Thoroughbred Retirement Foundation Saylor Challenge", up to $50,000.00 in total. The funds will be used specifically to support the daily needs of more than 1,000 former racehorses currently under the TRF's care. Donors may specify that their gifts be earmarked for "Olivia's Herd" which represents the organization's horses that are most in need of special care or feeding because of age or other physical condition.
"I am issuing this challenge to motivate people in the racing industry and Thoroughbred lovers to donate to the TRF," said Saylor. "Thoroughbred racing as a business needs to show that caring for retired racehorses is a priority."
This announcement coincides with the upcoming launch of a web page dedicated to the horses which are a part of Olivia's Herd. Olivia's Herd was created in memory and honor of Olivia Saylor, who died January 1, 2011 in Charleston, SC. Olivia was very involved with her father and siblings in the Thoroughbred racing business.
"We are immensely grateful to Paul for this generous demonstration of support and confidence in the Thoroughbred Retirement Foundation," stated Diana Pikulski, TRF's Director of External Affairs. "Paul's actions bring needed funds and awareness for the important work of the TRF."
Gifts can be made on line by going to Make a Gift at TRFInc.org, or by mailing a check to TRF, P.O. Box 3387, Saratoga Springs, N.Y. 12866 or by calling 518-226-0028.
Further Reading
TRF seeks sponsors for companion horses
A Second Chance for Thoroughbreds