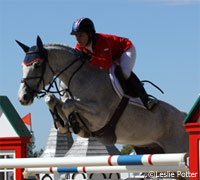 Laura Kraut, shown here with Cedric at the 2010 Alltech FEI World Equestrian Games, has competed in every WEF Battle of the Sexes since it began in 2009. Photo: Leslie Potter
The husband-and-wife pair of Katie Monahan Prudent and Henri Prudent captained opposing teams in this year's Nespresso Battle of the Sexes on Saturday, Jan. 28 at the Winter Equestrian Festival. At the end of the night, the women's team came out ahead with a score of 29 points to the men's 17. The women have dominated this event since it was launched at the Winter Equestrian Festival in 2009.
Both teams included well-known show jumpers, including Margie Engle and Laura Kraut on the women's side and Todd Minikus and Nick Skelton on the men's team.
In the first round of competition, the speed round, Michael Murphy turned in the winning round with 58.424 seconds. Catherine Pasmore was the fastest on the women's team with a time of 59.010.
The second round is the match race, where two competitors complete identical courses at the same time. The women won seven of the 10 rounds, pulling ahead to a clear lead.
The six-bar competition was the final round, and the women continued to dominate. Each rider earned two points for their team with every clear round. The women took 16 points to the men's 10 in this event, securing their victory.
| | |
| --- | --- |
| Women | Men |
| Katie Prudent | Henri Prudent |
| Tatiana Dzavik | Daniel Bluman |
| Margie Engle | Steven Bluman |
| Brianne Goutal | Charlie Jayne |
| Maggie Jayne | Ben Meredith |
| Reed Kessler | Todd Minikus |
| Candice King | Richie Moloney |
| Laura Kraut | Michael Murphy |
| Marilyn Little Meredith | Andres Rodriguez |
| Catherine Pasmore | Nick Skelton |
| Jessica Springsteen | Shane Sweetnam |