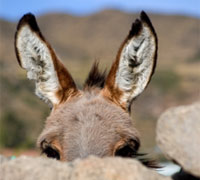 Horses, mules and donkeys are important to the livelihoods
of the rural working poor in many countries. Due to a lack of education and
resources, the care these animals receive is not always sufficient to keep them
healthy and able to work. The Brooke, a UK-based charity, works with people in
impoverished areas to bring optimal care to their working equines.
On January 31, The Brooke's president, HRH The
Duchess of Cornwall, hosted a reception to focus on the importance of women in
ensuring equine welfare in the communities served by The Brooke. Among the
guests at the reception was Dr. Sabira Nazir, a veterinarian who trains women
in Pakistan to properly care for their animals through the Lady Livestock Workers
project. Women who learn equine care from The Brooke's veterinarians are able
to pass along that knowledge to others in their community.
"Lady Livestock Workers share the knowledge and
skills they have learnt in Brooke training, helping to spread the message of
improved equine animal welfare," said Dr. Nazir.
"Women know how to care for their working
animals, they know how to help each other, and they have the skills and
experience to teach girls to follow in their footsteps," said Petra Ingram,
Chief Executive of The Brooke. "They are becoming powerful role models in their
communities. They are becoming agents of change."
Read more about The Brooke's outreach efforts with
rural women at TheBrooke.org or download a brochure here.