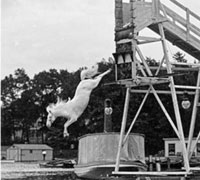 A diving horse performs in Toronto at the turn of the 20th century. Photo: Archives of Ontario via Wikipedia.
UPDATE 2/14/12: The owners of the Steel Pier have announced that they will not be reviving the diving horse act. Read more here.
ORIGINAL ARTICLE:
Many horse lovers have seen the Disney film
Wild Hearts Can't Be Broken
, which is loosely based on the story of a young woman who loses her eyesight while starring in a horse diving show in the 1930s. What most horse lovers of today have not seen is an actual diving horse show. The act fell out of favor in the mid-20th century.
As part of a revitalization effort in Atlantic City, New Jersey, the owners of the city's historic Steel Pier have announced that they will bring back the horse diving show by Memorial Day of this year.
In the diving horse show, a horse jumps off of a tower that is approximately 40 feet high. In some versions of the act, a rider climbs on to the horse at the top of the tower and rides the horse as it plummets into the 12-foot pool below. In other versions of the act, the horse dives solo.
The diving horses were a part of the Steel Pier from the 1920s through the 1970s. A short-lived attempt to bring the show back in the early 1990s—not long after Wild Hearts Can't Be Broken was released—failed due to outcry from animal welfare organizations and concerned citizens.
In an interview with a Philadelphia NBC affiliate, Steel Pier President Anthony Catanoso rejected claims of animal cruelty.
"Nobody can show us any documentation that the diving horse act here on Steel Pier ever harmed an animal, ever produced any kind of cruelty or abuse. We would not do that."
Nancy Beall, president of the Atlantic County SPCA, thoroughly disagrees. "I think it's disgusting and I think it's cruelty to animals," said Beall. "It certainly can't be safe for the animal."
The renovation of the Steel Pier is working in conjunction with Atlantic City's Tourism District plan to rebrand the notorious gambling town as a more diverse vacation destination. Whether or not visitors will view diving horses as wholesome entertainment remains to be seen.