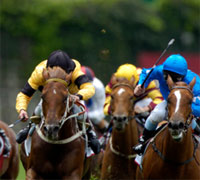 Thoroughbred racing has been pulled into the mainstream again, this time by the HBO series "Luck." The drama features an all-star cast including Dustin Hoffman and Nick Nolte, and has received rave reviews since its debut last month. However, news of two horse deaths that occurred during filming is casting a shadow over the series.
According to the American Humane Association (AHA), which supervises animal action in films and television, the two incidents occurred months apart. One occurred during the filming of the pilot in April 2010 and the other happened during the filming of the seventh episode. Those two episodes do not carry the AHA's "No animals were harmed" certification.
In both cases, the horses fell during the filming of short racing sequences and suffered severe fractures. The on-site veterinarians examined the horses and made the call to euthanize them. Necropsies were performed on both horses, but HBO has declined to release the results.
According to the AHA, production was suspended following the second incident and additional measures were added to ensure the horses' soundness, including hiring an additional veterinarian to perform daily comprehensive soundness checks.
The show has already been renewed for a second season.
For more information, including a full rundown of safety measures taken on the set of "Luck," visit www.americanhumanefilmtv.org/reviews/luck/