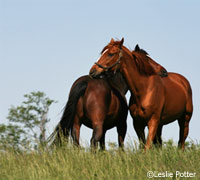 In celebration of Valentine's Day, the American Society for the Prevention of Cruelty to Animals (ASPCA) has launched a Cutest Couples photo contest.
Entrants are asked to submit a photo of a cute couple that includes an animal companion. Submissions can be an animal with a human or two animals. Enter your best portrait of you and your horse, your horse and his best equine pal, or a cute photo of your horse with the barn dog or cat.
Entries are being accepted on the ASPCA's Facebook page through Feb. 29, 2012. The ASPCA will select the finalists, and the public will vote for the overall winner from March 1 through March 12. The winner will be announced on March 13 and will win a prize pack worth $100.
Currently, most couples in the contest include dogs and cats, but any animal is eligible, including horses and other equines. The ASPCA has a long history with horses, having been created in 1866 to help ensure the welfare of urban cart horses.
For more information, visit ASPCA.org.
Here are some tips for taking a great photo of your horse:
Prepare your horse for a photo shoot
Photo Contest Tips for Better Pictures
Photography Tips from an Expert