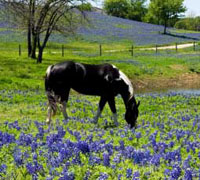 The American Paint Horse Association (APHA) is asking artists to capture the spirit of the American Paint Horse in a contest to celebrate the group's 50th anniversary. In partnership with The Trail of Painted Ponies, the APHA will select three winning entries to win cash prizes, and some may be crafted into collectable figurines.
The Trail of Painted Ponies began as a public art project in Santa Fe, N.M. Artists were invited to create original designs on life-sized fiberglass horses. The original product inspired a book and an expanding line of collectable miniature painted ponies.
With the APHA contest, any artist—or aspiring artist—is invited to submit his or her own, original design for one of the five pony models. The design should honor the spirit of the American Paint Horse. Entries may be submitted on paper or artists may purchase a "Paint Your Own Pony Artist's Set" and submit photos of the finished product. There is no fee to enter, and artists may enter as many designs as they'd like. Each design should include a title and a story of the painted pony.
The winning artist will receive a $1,000 cash prize, and their design may be created as a collectable figurine. The second and third place winners will receive cash prizes of $500 and $250, respectively. Entries will be accepted now through April 1. Online voting takes place from April 5-15, and the final winners will be announced on May 1, 2012.
For more information on the contest, including instructions on how to enter, visit trailofpaintedponies.com